With July 4th only a few weeks away we wanted to remind you about pet safety and let you know about fun
holiday dog clothes and accessories at Whirly Dog Supplies' Etsy Shop
to show your American pride.
First and foremost - I can't stress the importance of keeping your pet safe over the 4th of July Holiday. In our (and most) neighborhoods, kids and adults start setting off fireworks and having parties the week prior to Independence Day and through the week following. If you have to take your dog outside, as many of us do for potty breaks, walks, or family gatherings... please be mindful of how they may react to smells, noises, and visual attractions!
As an example, we have two dogs - One senior 14 year old Maltese and one young 2 year old Yorkie. Both have polar opposite behaviors when it comes to people, sounds, smells, and visual stimuli.
Whirly - our senior boy is not bothered very much by anything. He is slow moving and is not easily scared or distracted. For him, we just keep in indoors as much as possible so that he is out of harms way during the holiday festivities.
Toby - our young one is so jumpy and excitable, we have to keep him on a short leash if he goes outside to potty or a walk. Just the other day we had a thunder and lightning storm and every time he would hear the thunder he would jump and run aimlessly. We don't want to risk the possibility of losing him by him getting lost or running into the street and being in a dangerous situation.
If your pets need to go outside, make sure you have them (preferably) harnessed and watched carefully. I even carry treats so when he goes potty or for a short walk, if there is a loud noise or distraction I give him a treat to calm him down.
*Each pet is different and reacts different in certain situations. I can't stress enough to know how your dog will react in this time of Human celebrations. If you have a new dog and aren't sure how they will react - or even if you think they will be fine, my best advice is KEEP THEM INDOORS during July 4th events!*
Lastly, if you are planning family or friends gatherings for parties, bbq's, or other fun festivities and your pet will be joining the party, consider dressing them in something fun, fashionable, and protective.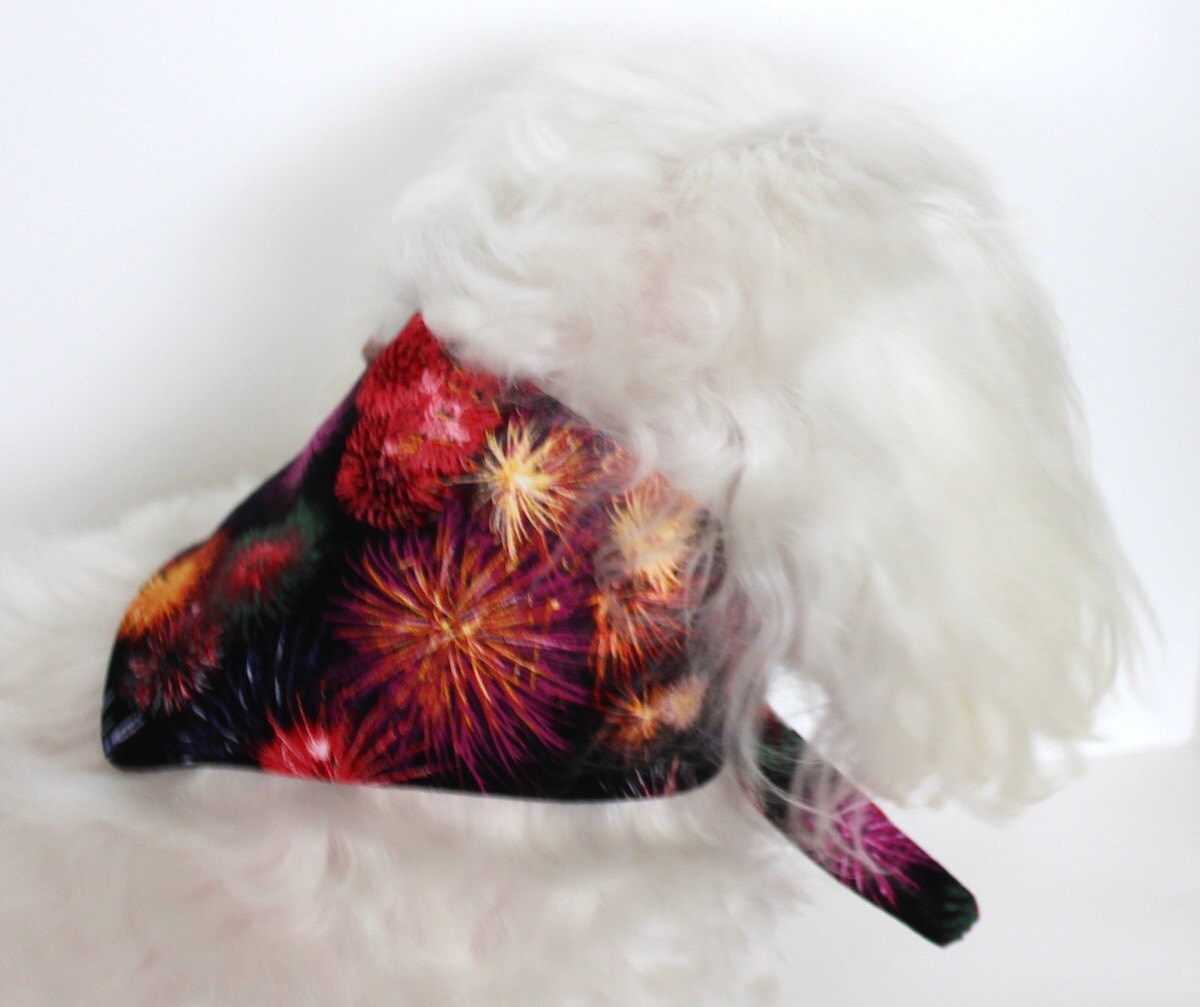 A lot of people don't realize that dog clothes/pet apparel are not only great for keeping your pet warm when it's cold outside - but they are great for protecting them from the harmful rays of the sun! Many breeds such as Maltese, don't have an undercoat and can easily be sunburned. The same applies to many short haired dogs as exposed skin is at risk of being burned.
For fun and fashionable dog clothes, designed for the July 4th holiday visit our
"Holiday Pet Clothes" section of Whirly Dog Supplies' Etsy Shop
. If you are in a warmer climate, you will find lightweight and comfy shirts and dresses you and your dog will love!
We wish you a fun and safe holiday this Independence Day.